2021 is going to be another tough year for families and loved ones. At the Steiff shop we would like to help you where we can.
If you are struggling to decide what gift you would like for your special person then get in touch, we have a small team who spend time with the bears and animals daily and know them better than most.
One example being a gentleman came via the shop when travelling to Lancashire and wanted to buy his adult daughter a gift. They had stopped buying presents for each other many years before, but on this day, he wanted to buy a Steiff cat in the same colours as his daughters. We did not have one in stock that was exact to the colours, so we suggested a Steiff mouse instead. He was thoroughly made up with this, came well under budget and a real keep sake gift for his daughter. Wrapped in tissue paper, then popped in a box it was the perfect piece.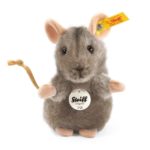 So, if you think you might need some help, email sales@thesteiffshop.com. Let us know a few personal likes of your loved one; favourite colour, animal, hobby, special place, and approx. budget. We will then in turn send you some examples and why we chose these.
With so much thought going into your chosen gift, we are sure your loved one will appreciate such efforts in a time when it is difficult to shop when the whole country is on lockdown.
All orders will be dispatched via courier, so please allow three working days delivery at this very busy time.
Keep safe!
The Steiff Shop Team x